NATE's New Certification Pathway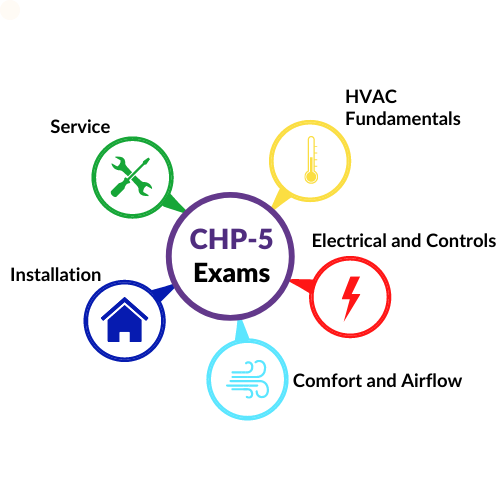 The Certified HVAC Professional (CHP-5) is a new certification pathway designed to mesh a technician's training and certification efforts with their on-the-job learning. This new way to earn NATE certification consists of five 30-question exams instead of our traditional 50-question core exam and 100-question specialty exam.
Each exam covers one of five different subject domains: HVAC Fundamentals, Electrical and Controls, Comfort and Airflow, Installation, and Service. NATE recommends taking the exams in order for the easiest progression, however technicians can take the exams in any order they choose. Candidates can take up to six months between each exam to study and prepare.
With this new certification structure, our goal is to help technicians more easily understand the certification process and group together content areas in ways that make preparing for the exams more straight forward. We are offering these new exams in our traditional in-person formats, as well as remote live online proctoring, to give technicians the opportunity to take the exam from the comfort of their own home or workplace at a time that fits their schedule.
Technicians that prefer the traditional Core and Specialty exam pathway can continue to use those exams to become certified; the traditional pathway is not being removed.
HVACR Technicians that earn their NATE certification using the CHP-5 will need to complete recertification requirements every two years in order to maintain their certification.
Training Resources
NATE Training Academy
NATE has partnered with Interplay Learning to create NATE Training Academy, an online platform designed to provide technicians a way to train for NATE certification exams online at their own pace. The comprehensive online courses are all available on-demand and can be taken at any time. The interactive and immersive online courses include "field-like" 3D and VR simulations, videos, and knowledge checks. You can find more information about NATE Training Academy's CHP-5 exam preparation courses here.
Official NATE Study Guides
NATE has created a study guide to help technicians prepare for the CHP-5 exams. The paperback guide includes lots of graphics and practice questions at the end of each chapter. The guide is available for purchase in the NATE online store.