Getting your technician on a certifiable path to HVACR success is simple. The NATE certification program offers different levels of testing to support technician development, from entry to senior level.
The Ready-to-Work and HVAC Support Technician certificates are geared toward early-career technicians with under one year of experience in the field.
The NATE certification exams and Senior Level Efficiency Analyst exam are designed for professional technicians with at least two years of practical experience.
NATE offers professional certification exams for experienced technicians to demonstrate their specialized knowledge.
Find information specific to each exam on the Take an Exam page.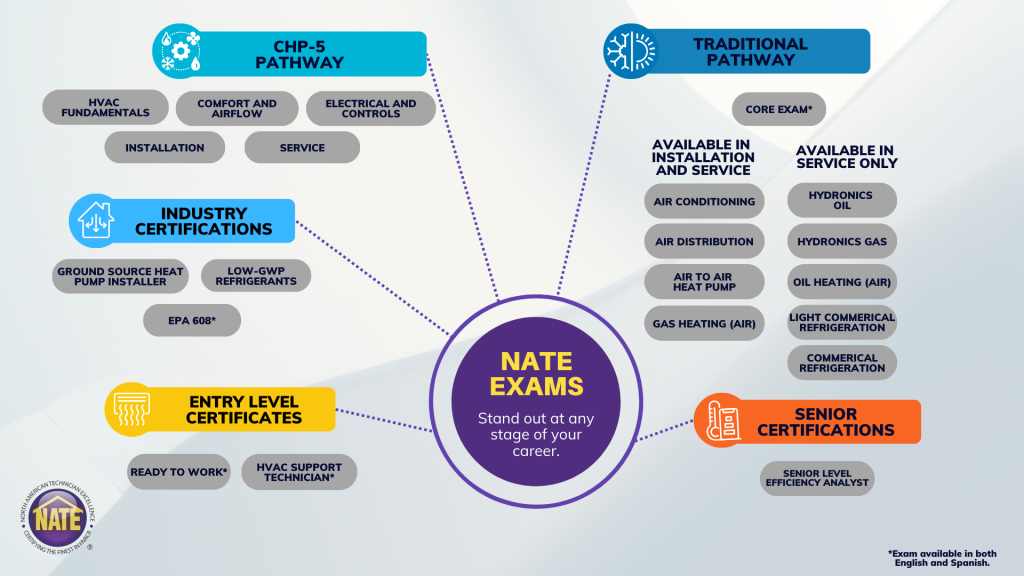 Training support can be found:
With the exception of NATE's Ready-to-Work exam, all other exams must be monitored or proctored at a Testing Organization or with NATE's remote Live Online Proctoring. When your technician is ready to test, find a facility that is convenient to you by entering your zip code on the Testing Organization locator map or have your technician create an account on www.myNATE.org and order a remote live online proctored exam.
Both paper and online tests are available; offerings and pricing vary by location. If you are unable to locate a testing organization or would like to find additional training support, email asknate@natex.org for assistance.